My early introduction to Motorcycling. By Vince Chivers.



From a very early age my father told me tales of how fast Vincent HRDís were, and also the peculiarities of trying to control Morgan 3-wheelers. This together with my fatherís enthusiastic driving obviously left a lasting impression on my young mind!!

My early attempts at any speed were only possible by means of pedal power, and great speed was achieved by my brother Dave and myself when we acquired a Claude Butler tandem which we would pedal like hell down Ship Hill in Barry and straight onto the Barry Island road passing a few bewildered car owners on the way.

In 1959, when I was 15, my father took up a job in Northern Ireland, where my brother and I continued with our pursuit of speed on push-bikes. The following year we all went to the Ulster GP and from that moment on both my brother and I wanted motorbikes. This led to making friends with two boys, one of whom lived on a farm. The main thing was that they had two motorbikes, a WD Matchless 350 and a two stroke 125 Royal Enfield. I still remember the thrill of trying to slide the Matchless round the fields of the farm.

At some time I learnt that a 197 Dot was for sale and when I approached my father for permission to buy it, was surprised when he said yes as long as I paid for it! So for the princely sum of £12, I was the proud owner of this powerful machine. I sat and passed my test on a typical Ulster day, pouring with rain. This took place in a village called Newtownards, and luckily for me the examiner was in a better mood than the weather and I passed.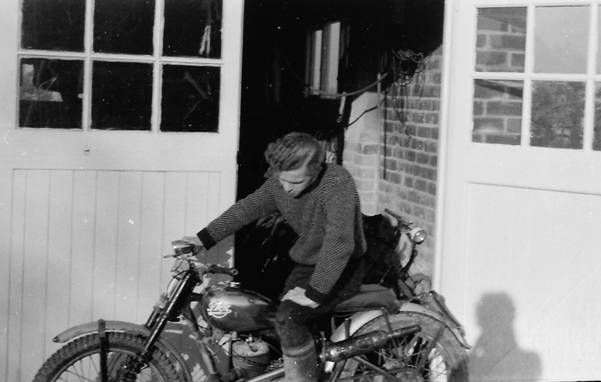 At this time I was still attending school in Bangor, which was about 10miles from where we lived in Craigavad. With a great deal of saving I put together the money for tax and insurance and was now on the road. By this time we had seen our second Ulster and seen Bob Mac on the Bianchi 350 and 250 Honda four, together with Hailwood and John Hartle, so I had really got the road racing bug.

I discovered a different route to school in Bangor via a village called Crawfordsburn. This, as far as I was concerned, was my Dundrod. The start was where I turned off the main road from Belfast to Bangor, and the finish line was the 30mph sign coming into Bangor. I can still vividly remember the bend coming out of Crawfordsburn to this day.

Eventually we moved back to Barry when my father took up another position in the firm that he worked for. Mother and we three boys moved back to Barry and father went to London. This was 1964 and Dave and I continued to try and prove who was the quickest on the road. Dave eventually gave up when he got married but I continued riding on the road, and eventually tried racing for a couple of years, giving up when I got married as well.

I have loved riding bikes right from those early days and still love to now, hoping that I still have many more years of enjoyment still to come!!!



Some racing recollections


I suppose my enthusiasm for bikes started after moving to N.I. in 1959. The following year my father took the family to the Ulster G.P. Seeing the speed of just the 125cc machines go past the start and finish was enough to get me hooked.
My brother and I started to go to local scramble and grass track meetings and got hold of a 350cc Ariel which we rode on a farm that a friend lived on. In 1962 I passed my test and bought with saved pocket money, a 197cc DOT. Where we lived there were a number of roads crossing over the mountains between Belfast Lough and Strangford Lough. Not much speed going up, but great fun charging down. My parents split up in 1963 and my mother and my two brothers moved back to Barry.

My younger brother Dave and I both soon had bikes on the road and tried to prove who was the quickest! By 1965 I had a 500 Goldie and hearing that Llandow were going to do a meeting I entered along with umpteen other hopefuls from Cardiff and Cwmbran including Stuart Shannon, Brian Adams and Roger Nichols. I also entered a few other meetings and did a hill climb event at Maesteg getting 2nd fastest time to a methanol burning 1000cc Vincent.

1966 came along and I entered club meetings at Darley Moor and Lydden Hill. May bank holiday sticks in my mind because whilst on the back of a friends' bike, a car slammed into the left of the bike and I had a compound fracture of the tibia, fibia and femur! Goodbye 1966 and except for a Llandow meeting at the end of 1967, that was all the racing I had managed. The bike I rode at that meeting was a 500 Manx bought with the compensation from the accident.

1968 and I continued at Darley Moor and Gloucester club meetings. Best result was a national meeting at Thruxton where I got a 7th in the 1000cc final and 9th in the 500cc final. Not bad for virtually the first year racing.

1969 and I joined Bemsee to do club meetings on Brands Hatch short circuit. Managed a few wins and mostly finished in the first 3 or 4.Also meetings at Staverton which featured Percy Tait and Malcolm Uphill in one and Selwyn Griffiths and Malcolm in the other. Bemsee also did a national meeting at Crystal Palace in September. Myself and Dave Pinch arrived late and walked the circuit around midnight. Practise went well and I was lucky when Ron Chandler came cruising by and I latched onto him and knew what the racing line was through the sweepers leading onto the bottom straight. Result was I finished 6th behind Ron Chandler, Pat Mahoney, Paul Smart, Dave Croxford and Rex Butcher. First time at Crystal Palace. Chuffed!!

My transport in those days was an 850 Mini with a trailer on tow. On one of my trips to Brands the mini came to a spluttering halt on the south circular through London. I was on my own and after finding out that the metal toolbox had shorted and burnt out the wiring to the fuel gauge and petrol pump, I removed the bonnet and slung it in the back of the mini. I then took the tank off the Manx and bungeed it on top of the engine after connecting the fuel line. Bingo away we go to Brands and back home to Barry. Petrol pump attendant had a laugh when I asked to fill it up!
1970 was a good year. Win in non-experts race at Crystal Palace in March. Fourth in Br.Ch. at Thruxton in April in 1000cc final. Beginning of May and a meeting at Staverton in which I finished 3rd to Brian Adams and Gordon Pantall in the 500 final, and second to Brian in the 1000 final after watching Pantall throw it away on the last corner. End of May I entered the Clubmans TT at Oulton Park. Never been there before and first prize was a free entry to the Manx GP. Won the heat leading from start to finish. Leading the final when the exhaust pipe broke and I couldn't get top gear. Finished second. GUTTED! Next meeting Brands and first ride on the Bridgestone Altair which Malcolm Uphill had ridden. Finished 3rd in 350 race and won two races on the Manx and was leading the third when I was black flagged for smoke coming off the bike. Burning oil pipe on the exhaust.Next race on the Bridgestone at Thruxton and it seizes and throws me off breaking my left collarbone and takes the skin off my nose after going through the screen. Two weeks later at Castle Coombe I convince the circuit doctor I'm O.K. after circuit boss Vic Anstice summons me to race control. Finished 5th in heat and 8th in final. Us Welsh guys are tough!! .August and back at Staverton. Second in 500 to Brian and third to Brian and Roger Corbett. Llandow next and second to Brian again, and a second to a guy called Shannon. Aintree next and I have a 250 Suzuki provided by Wyndham Richardson to ride as well as the 500 Manx. Had a good meeting finishing 3rd in the 250 and second in the 1000cc race to Brian Adams after fallowing him for the entire race and trying to beat him on the last corner. It was about the closest I got to beating him. Bol D'Hor next in Sept on a 700cc Rickman Interceptor riding for Wyndham with Brian Adams. The bike was entered through a French motorcycle dealer, Cretel Motors. Gearbox gave up after about 10 hours racing. October and I have the 250 Suzuki to ride at a club meeting at Thruxton. I also have the Manx and won both race on it. Leading the 250 having passed Dave Browning it seizes but I get the clutch in this time. During the winter Wyndham buys 250 TD2 Yamaha motor from Ted Broad and puts it into a Jim Lee frame.

1971 First outing at Br.Ch. at Thruxton in March and I finish 5th in the final. Crystal Palace was a nightmare, crashed the Norton and bent the frame and couldn't start the Yamaha in the final. Castle Coombe with just the 250 and after 3rd in the heat and whilst lying second to Tony Rutter it seizes. Bloody 2-strokes! With only the 250 to ride I manage a good win at Aintree in the 250 race and get presented with a trophy which I could keep for a year. Good rides at Wroughton and Llandow where I manage to win both 250 races, both 350 races and second twice to Roger Nicholls in the 1000cc race. National at Castle Coombe in September get a 6th in the 250 final. Points toward an International license and British Championship.

July 3rd and 4th and off to the 24hr at Monjuich Park, Barcelona riding a 500cc Suzuki Cobra for Barry Hicks of Two Wheel Services. I was riding with Gordon Pantall. The mechanics had drilled extra breathing hole in the front hub for cooling. During the night with me on board the wheel collapses and locked against the mudguard. I go for a flying lesson and just manage to scramble on all fours to the edge of the road before the next rider comes along.
Finish the year in 13th place in 250Br.Ch. after just two results.

1972. Built a Seeley Triumph during the winter, which looking back was not a good idea. Managed a few placings on it, a 4th at Thruxton club meeting about it. Got hold of a 350TR2 Yamaha in an odd frame and got some half decent rides on it. At the Silverstone International I got lapped by Jarno Saarinen when he went underneath me on a corner. Frightened the shit out of me. I had met my future wife by then and began to realise there might be more to life than racing bikes.

1973. Final race at my favourite circuit, Thruxton. The race was the 500miler. I was on a RD350 Yamaha with Godfrey Benson entered by Wyndham Richardson. We were each to do 45 laps, 105miles before handing over to the other rider. We completed the race with no problems and finished 11th overall and 1st 350. Great!!
So that was it. I had a go, I had fun, I enjoyed it. Didn't set the world alight but at least I had a go!!!

Vince